Posted by PaperplateismGuy

When it comes to Trump, all I hear is that he hates Mexicans, Muslims, women, etc. And that's its racist, sexist, culturalist (because Islam is not a race), and so on. I tell them, he never said he hates Mexicans, he said, we need to keep illegal immigrants out, that we should make sure the muslims entering in the country aren't terrorists, and that I hate abortion (unless its absolutely necessary e.g. If carrying the child would kill the mother, then yes abortion is required). His abortions statement I think was just for media attention.

What does Donald Trump say when some hooligans beat and killed a homeless Mexican person and then cited him?
"I will say, the people that are following me are very passionate," Trump said. "They love this country, they want this country to be great again."
His saying, "well, I'm talking about just the illegals" is just an out point. He holds an
87%
disapproval rating from Latinos. I'm aware that some Latino groups tend to support Republicans, most famously, the Puerto Ricans, but that 87% figure isn't something to scoff at.
Posted by Yami

http://www.goodgopher.com/

This is a Search Engine, that either shows Independent (no bullshit) News, or Mainstream (bullshit) News, and you choose either of the 2.
Natural News, TruthStreamMedia.com, JewWatch.com, Breitbart.com, which GoodGopher shows a lot of results from, are hardly quality sites. Mike Adams, the creator of GoodGopher, is the one who's full of bullshit. If you're not familiar with Mike Adams, he hates medication, doctor visits, vaccination, cooked food, deodrants, shampoo, fluoride, sugar, washing powder, homogenized milk, and gluten, to name a few.
He also does not accept germ theory and he also partakes in HIV/AIDS denialism
. He is also a proponent of homeopathy, detox diets, vitamin woo, and he also collects information on freaking chemtrails. This person is deranged, off the rails when it comes to science. He is spectacularly wrong.
For instance, he's afraid of cancer-causing chemicals that taint the food and wishes for more "natural" foods. He even cites freaking Food Babe on this
"Commercially available grain-based products that line grocery store shelves and are served at restaurants are unhealthy. They are full of ingredients that are not food, like azodicarbonamide (the same chemical in yoga mats and shoe rubber), other chemical dough conditioners, added sugars, artificial flavorings or coloring and GMOs. Flour can be treated with any of the 60 different chemicals approved by the FDA before it ends up on store shelves – including chemical bleach! Also, the industrial processing destroys nutrients, such as Vitamin E and fiber."
Yet, this is what a blueberry's chemical makeup looks like.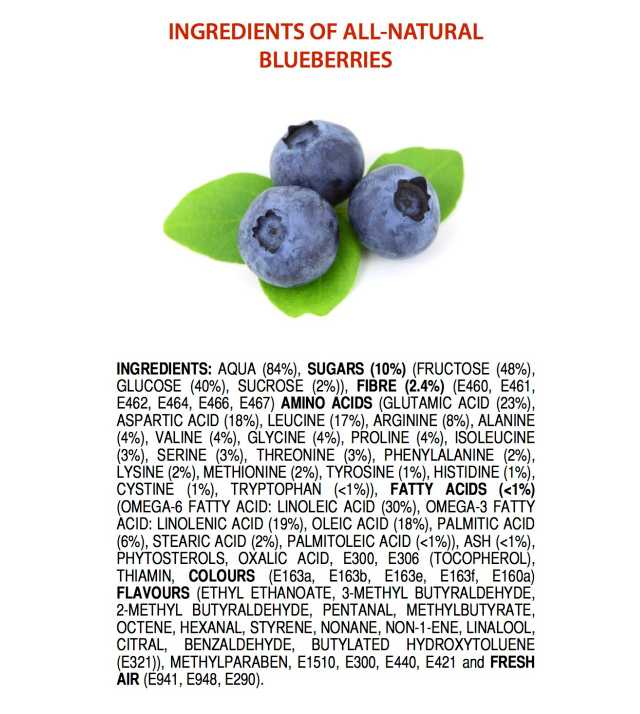 Also, on the last line, about "destroying" chemicals, manufacturers often readd the nutrients back after processing the bread, so that's a convenient fact to leave out.
Other quality articles by Mike Adams
WARNING: If you're juicing non-organic produce, you're just poisoning yourself with a pesticide cocktail
Blah blah blah you're drinking pesticides and then you're going to poison yourself blah blah blah
Even though the pesticide residue is highly regulated and thus probably way too small to have any negative effect on you.
Also, organic designation still allows some pesticides, even a synthetic ones called copper sulfate. Still, it's not like they work better than synthetic ones.
Oh and buy my product blah blah blah
Don't you see? This is a marketing scheme for him to sell you crap based on misinformation like this. Mike Adams is full of shit and you're buying into it by using stuff like goodgopher.
That's not to say mainstream media is without its flaws,
shown by the cell phone cancer reporting
, but you can bet anything that GoodGopher spits is pretty awful.